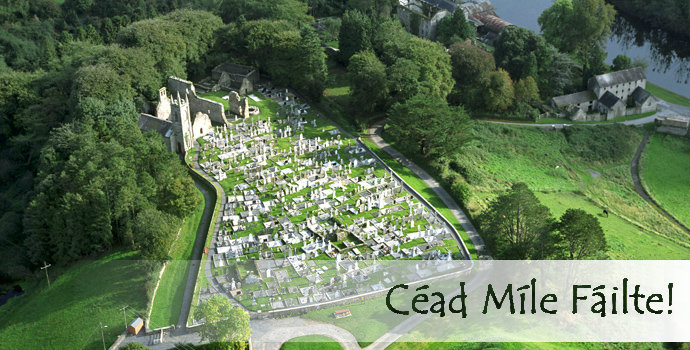 Welcome to St. Mullins Amenity & Recreational Tourism Group website. SMART Ltd is a registered charity, local voluntary community development group in St. Mullins.
This website is intended to provide a snapshot of our small community (pop. 1,350), in South Carlow, South East Ireland, which is proud of its heritage, steeped in tradition and waiting with a genuine Céad Míle Fáilte for everyone, especially those whose ancestors left from the greater St. Mullins area.
---
About St. Mullins
St. Mullins is a little bit of heaven where time has almost stood still. Its peaceful natural setting on the final tidal stretch of the river Barrow, nestled between the Celtic ritual Lughnasa sites of the Blackstairs and Brandon Hill (so named following a visit by St. Brendan the Navigator), increases this scenic village's feeling of enchantment.
It gets its name Tigh Moling (House of Moling), from St. Moling (614 – 696), who founded an early Christian monastic settlement here. During his lifetime, St. Moling became a great ecclesiastic, becoming Bishop of Glendalough and Archbishop of the Diocese of Ferns. As a result of his saintly life, healing, and the many miracles attributed to him, St. Mullins became a place of pilgrimage, a form of which survives to the present day. It takes place on the Sunday before 25th July (known as Patron/Pattern Sunday), when locals and people with St. Mullins connections gather for a ritual and feel the connection that goes back fourteen hundred years to Celtic monastic times.
We don't mind sharing our secret and invite you to take a boat trip on the Barrow, or do some coarse fishing (with fishing stands provided for those with special needs) or have a swim. Come for a walk along the old Barrow towpath, join the South Leinster Way, or go through leafy woods and lanes where around each bend a surprise awaits – maybe a stunning vista, a fox, otter or pheasant ambling by.
Watch the heron catch his supper, the dipper sitting on stone in the Aughavaud by the old bridge, giddy long-tailed tits near the Steamer Hole, or catch the electric-blue flash of the kingfisher as she dashes to her nest in the riverbank mud or the spotted woodpecker high in the birch trees in Bahana Wood. Or just sit back and relax and enjoy a coffee and home baking at An Siopa Glas or the Mullicháin Café.
So, if you're interested getting out in the fresh air and leaving your worries behind, or walking in the footsteps of your ancestors, why not come here for a visit.
---
About SMART
(St. Mullins Amenity & Recreational Tourism Group Ltd)
SMART Ltd., a registered charity, is a voluntary community organisation. It was formed in March 1994 and its aims are the protection of heritage, the provision of new amenities and the promotion of tourism in the St. Mullins area.
St. Mullins, the most southern parish in Co. Carlow, has a rich historical heritage with the physical remains of most of the defining periods of Irish history still visible within the village. The early Celtic monastic settlement founded by St. Moling is one of the most significant in the country. 2014 marked the 1400th anniversary of the birth of St. Moling.
SMART co-operates with National Monuments Service, Carlow County Council, FÁS, Waterways Ireland, National Parks and Wildlife Service, LEADER, Carlow County Development Partnership, the UCD School of Architecture, the Heritage Council and most importantly with all the other organisations in the parish to enhance, protect and promote our heritage.
We sponsor Community Employment jobs for general maintenance and community development projects. We provide new amenities such as picnic benches, seating, wheelchair-friendly fishing stands, trees, shrubs, flowers, and composting bins, and we maintain all recreational areas in St. Mullins.
SMART has initiated several Studies and Reports, including:
Conservation and Management Plan 2015
Dry Stone Wall Study 2014
Appropriate Assessment Study 2014
Landscaping Plan 2005
Wildlife Plan 2003
Tourism Development Plan, CHL, 2000
Protection of Heritage & Amenity, Dr. L. Kealy, UCD, 1995
We have published a multilingual Heritage Trail Booklet, local Christmas cards, postcards and a book on the History of 1798 in St. Mullins.
To foster awareness of our heritage and to have inclusive community involvement, we organise events and commemorations of particular significance to St. Mullins and we also participate in nationally organised events.
---
Our Latest Projects & Achievements
—
For more please visit our Projects & Achievements archives page.