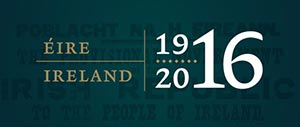 St. Mullins 1916 Commemoration will take place on Easter Monday, March 28th next at 2.30pm.
There will be a parade into the Village led by schoolchildren from all three schools in the parish carrying flags and a 1916 – 2016 banner. They will be joined by veterans of the 1966 parades. As they arrive outside the graveyard, the Graiguenamanagh Brass Band will play.
The march will pause for the 1916 Republic Flag to be hoisted on the Norman Motte while the Last Post is played. They will then proceed to the Commemoration Monument in the graveyard where the Proclamation will be read.
A prayer will be said for all involved in the 1916 Rising There will be a short talk followed by unveiling of a plaque. A wreath will be laid followed by a minute's silence.The band will play Amhrán na bhFíann.
---
Refreshments will be served, followed by an exhibition of photographs and memorabilia, traditional music and dance.