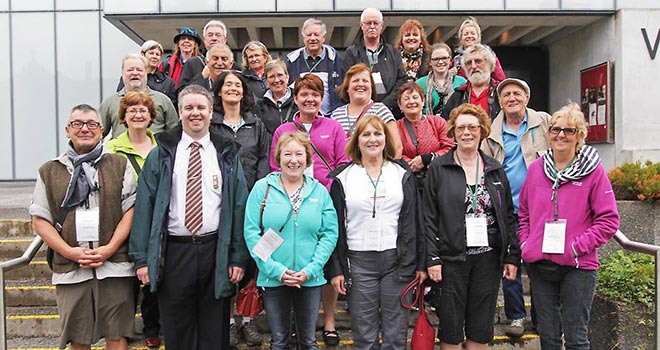 The tradition of seasonal workers leaving from the hinterland of the rivers in South East Ireland began in the early 1700's. Their destination was the cod fishery in Newfoundland because of their experience and background. There were many opportunities for boat builders, sailors, fishermen, cooks and cleaners. At first they returned at the end of the fishing season each November but gradually they began to put down roots and an Irish community formed in Newfoundland. They kept their Irish culture, traditions, music and accents.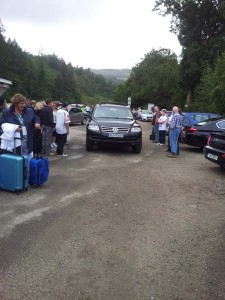 Newfoundland and Labrador Irish Connections (NLIC) works closely with Ireland Newfoundland Connections (INC) in Ireland, hosting a twin festival alternate years to promote cultural, historic and community ties. In 2014 through SMART's involvement, the parish of St. Mullins hosted the Co. Carlow leg of the Newfoundlanders visit, with 58 people being accommodated in the parish.
An itinerary of varied activities was drawn up which included guided historic talks on the Monastic site and Barrow towpath detailing the building of the Barrow navigation.
There was a trip on the Barrow on Larry's Barge with afternoon tea. There were bicycles for hire to tour the Barrow to experience the river from a different perspective and discover wildlife, scenery and tranquillity. For those who wanted a more leisurely afternoon, there was a horse and trap to take them round the village.
Later there was a display of hurling on the Green by the St. Mullins juvenile hurling team. This was followed by a barbeque including roast pig on a spit in a large marquee at the village pub. An evening of varied musical entertainment followed, featuring local and Newfoundland musicians and singers.
A wide variety of activities were organised around the county for the visit, including the annual Aloy O'Brien Concert in memory of a Newfoundland musician, history tours, arts displays, a Civic Reception in the Visual Arts Centre Carlow and shopping opportunities. The visitors then departed to Ferns for the Wexford leg of the trip.
Support received from the Local Tourism Diaspora Fund was instrumental in allowing us celebrate our connections with Newfoundland.