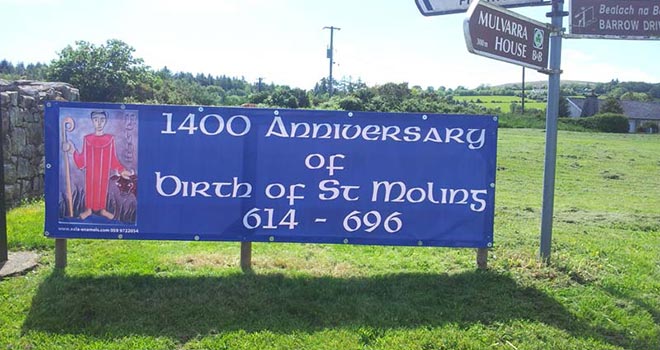 In 2014, SMART held a number of events to commemorate the 1400th Anniversary of the birth of St. Moling in 614. Our annual outdoor Mass for the Feast of St. Moling on June 17th took place in Templenaboe, "Church of the Cows". This little ruined church high on a hill was built in thanksgiving for the remission of the Boromean Tribute by St. Moling. It was also the site where unbaptised babies were buried up to the 1950's. In memory of these babies the children of the parish assist in all parts of the Mass.
Highlights also included a bus trip to Brosna in Co. Kerry, where St. Moling was born. We received a warm welcome and refreshments in a traditional rambling house and were treated to a session of Irish music, song and story. En route we visited the historic site of the Rock of Cashel for a guided tour. This was the seat of Fingin, the Munster king who offered St. Moling land to build his church, but after an angel appeared to Moling and described St. Mullins to him, Moling declined.
At the annual Pattern Mass, Rev. Fr. Aughney gave his homily and the life and times of St. Moling and his legacy in St. Mullins today.
New solid oak finger name signs were installed around the monastic site and environs.
The 1400th Anniversary celebrations were part funded by support from the Community Tourism Diaspora Fund.